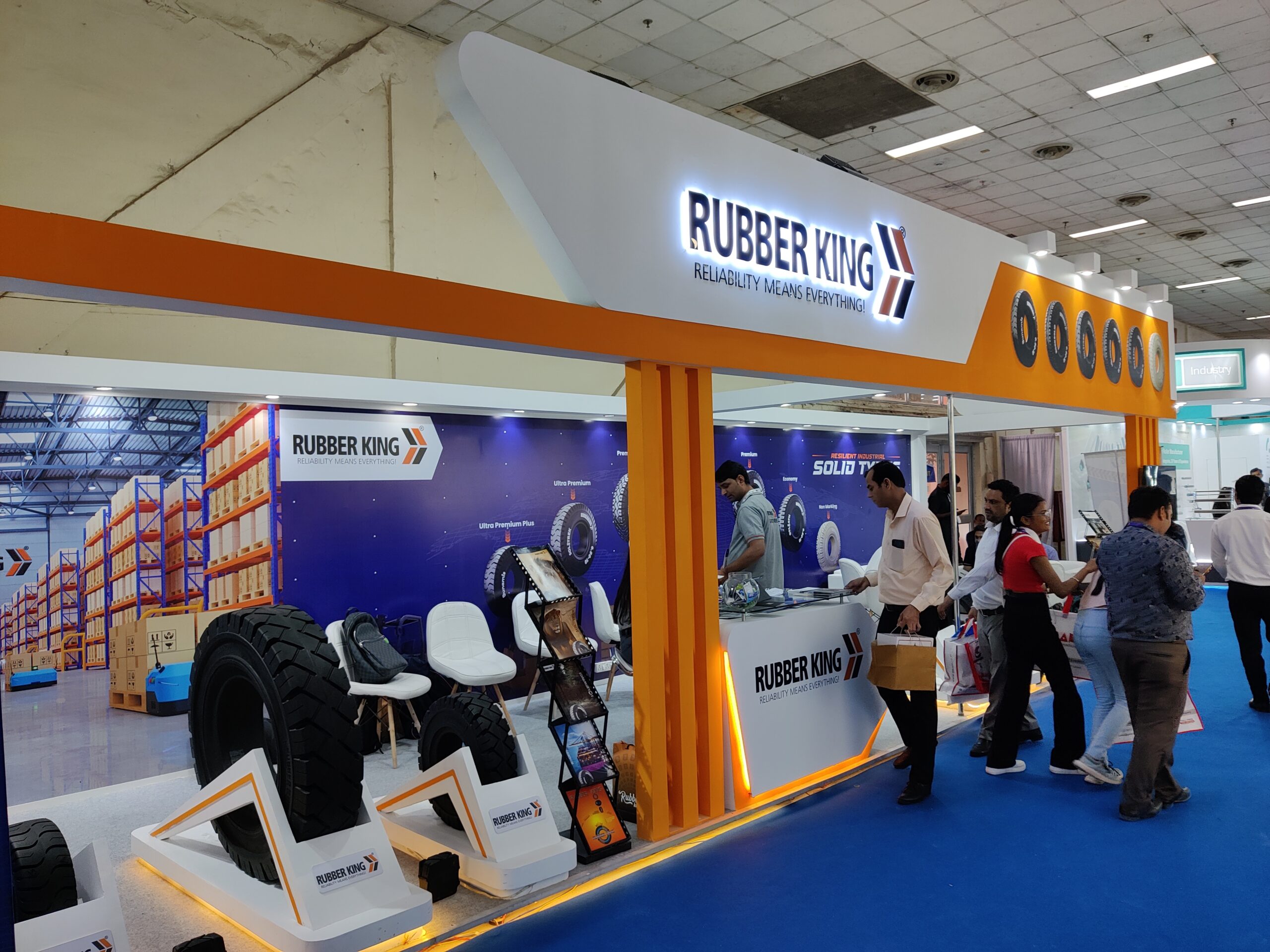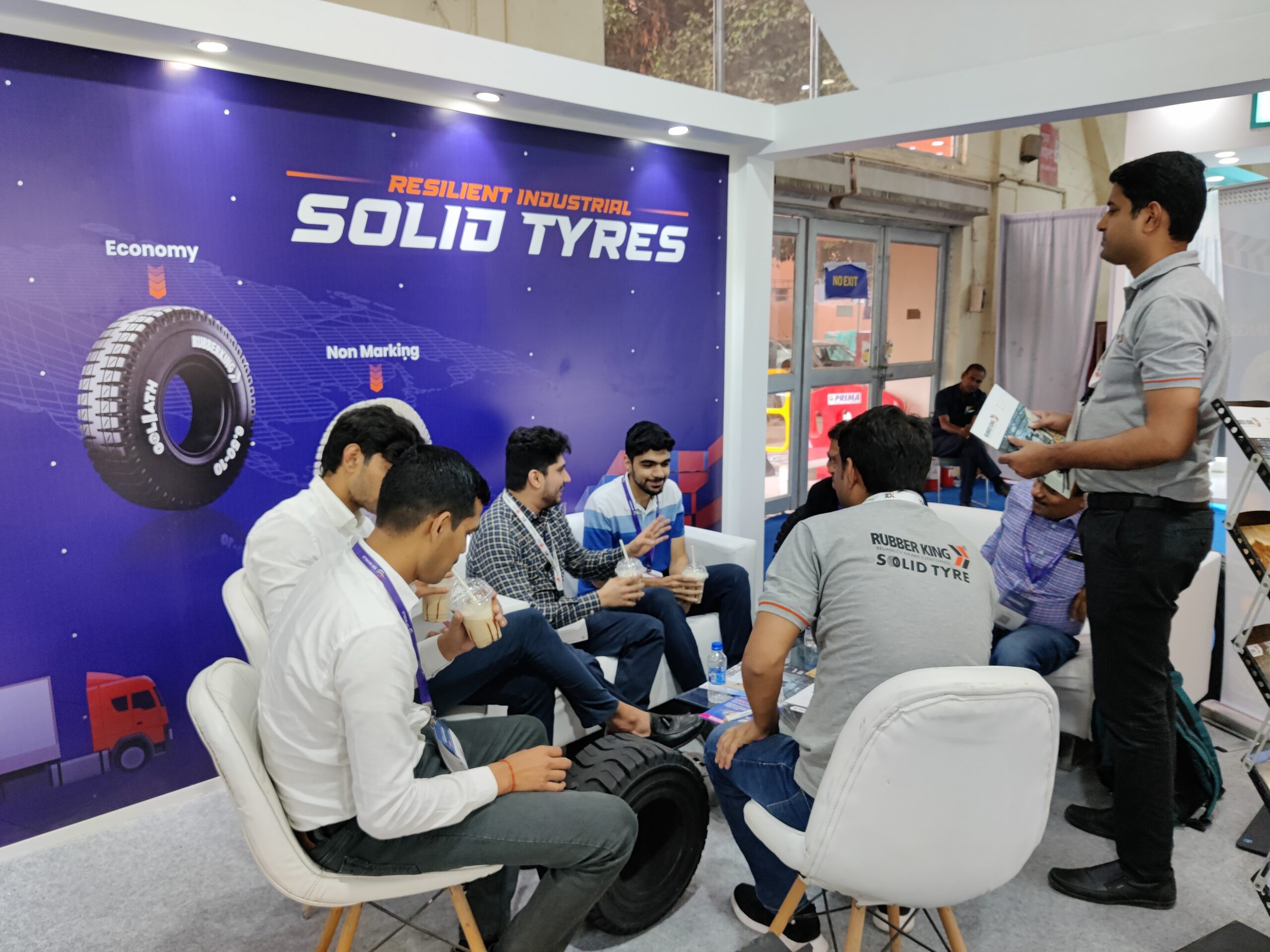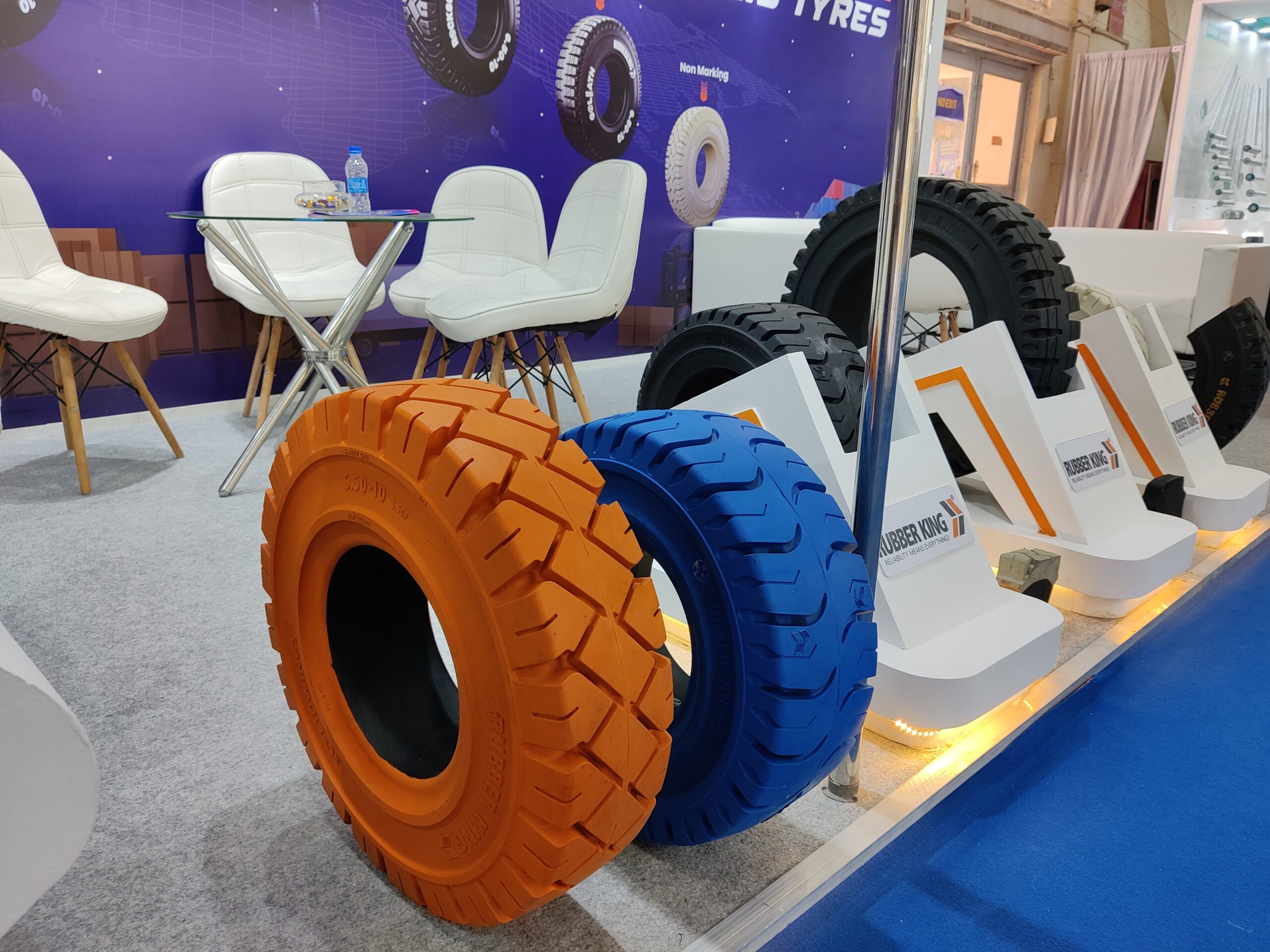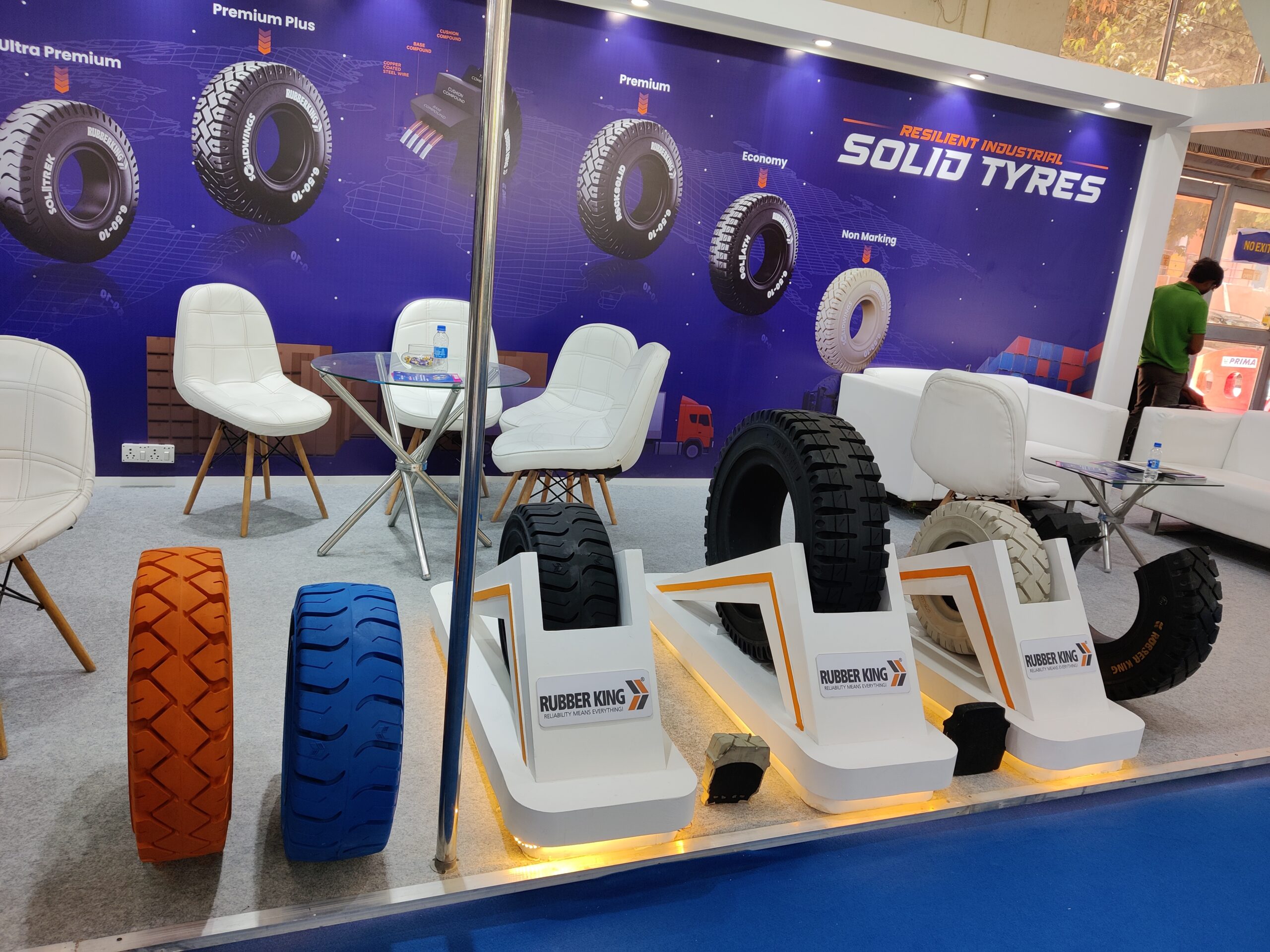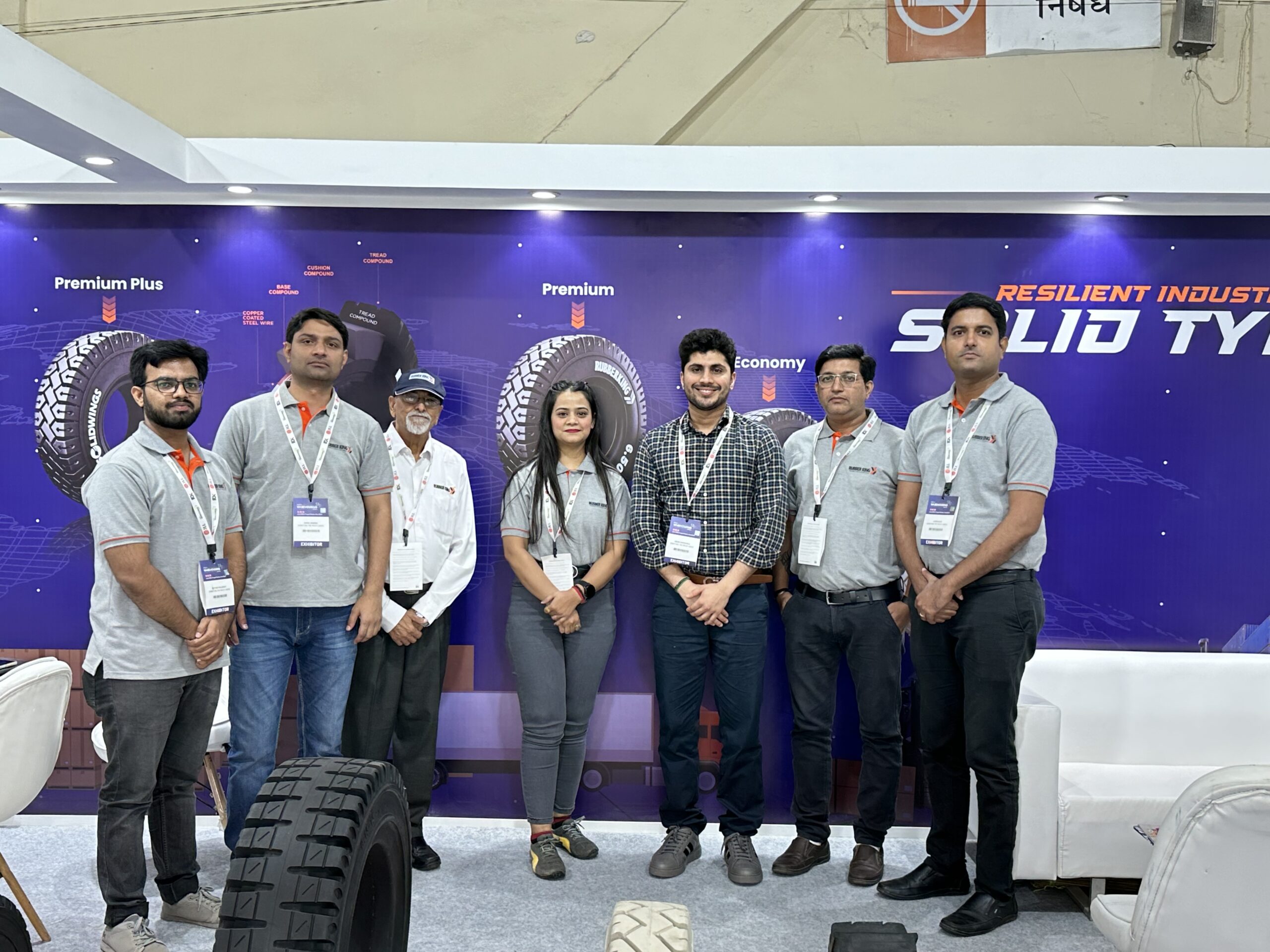 India Warehousing Show, Pragati Maidan, Delhi
14 – 16 June 2023
Stall No: C6 | Hall 11
Rubber King Tyre Private Limited, a renowned player in the tire industry, recently made waves at the prestigious India Warehousing Show 2023 (IWS) exhibition which was held in Pragati Maidan, Delhi. The company showcased its cutting-edge products and unveiled an exciting new range of solid tires that are set to revolutionize the market. The exhibition stall labeled No: C6, served as the perfect platform for Rubber King Tyre to demonstrate its commitment to innovation and quality.
The highlight of the event was the launch of the company's new line of solid tires, featuring an impressive lineup of options. Each tire in the range boasted unique features and capabilities, catering to diverse customer requirements. Rubber King Tyre Private Limited introduced five distinct models: Dunamis, Solitrek, Rocksolid, Solidwings, and Goliath.
Dunamis, the flagship tire in the new range, is designed for exceptional durability and reliability. Its robust construction ensures extended service life, making it ideal for heavy-duty applications in industries such as construction, warehouse, and logistics. The Dunamis solid tire guarantees exceptional traction and stability, even in challenging terrains, enabling smooth operations and increased productivity.
Solitrek, another standout offering from Rubber King Tyre, is engineered to excel in tough conditions. This tire provides exceptional grip and traction on uneven surfaces, making it the perfect choice for Smelter, Glass Industry, Paper Industry and Oil Industry. With Solitrek, customers can tackle rough terrains with confidence, knowing that their tires will deliver optimal performance.
For customers seeking a tire that combines durability and versatility, Rubber King Tyre introduced Solidwings. This tire is built to withstand heavy loads and demanding environments while offering superior manoeuvrability. Its solid construction and advanced rubber compounds ensure maximum resistance to wear and tear, resulting in reduced downtime and increased efficiency.
Rocksolid, on the other hand, caters to customers who prioritize comfort and fuel efficiency. This tire model utilizes innovative design elements to deliver a smooth and comfortable ride, while also reducing fuel consumption. Solidwings is an excellent choice for urban applications, providing a balance between performance, longevity, and comfort.
Last but not least, Goliath represents Rubber King Tyre's ultimate solution for Low-intensity applications. This tire is engineered to handle extreme loads and challenging environments with ease. Its two-layer construction makes it an ideal choice for industrial forklifts, port equipment, and other heavy machinery that operate under demanding conditions.
By introducing this comprehensive range of solid tires, Rubber King Tyre Private Limited has reinforced its position as a leading player in the industry. The company's commitment to innovation, quality, and customer satisfaction is evident in the meticulous design and engineering of each tire in the lineup.
The IWS exhibition stall No: C6 proved to be a tremendous success for Rubber King Tyre, attracting a significant number of industry professionals, enthusiasts, and potential customers. The unveiling of the Dunamis, Solitrek, Rocksolid, Solidwings, and Goliath tires generated considerable excitement and positive feedback, solidifying Rubber King Tyre's reputation as a provider of cutting-edge tire solutions.
With its relentless pursuit of excellence and a focus on meeting the evolving needs of its customers, Rubber King Tyre Private Limited is set to drive the tire industry forward with its innovative products and unwavering commitment to quality.